Tesla Model 3: Summary of Controls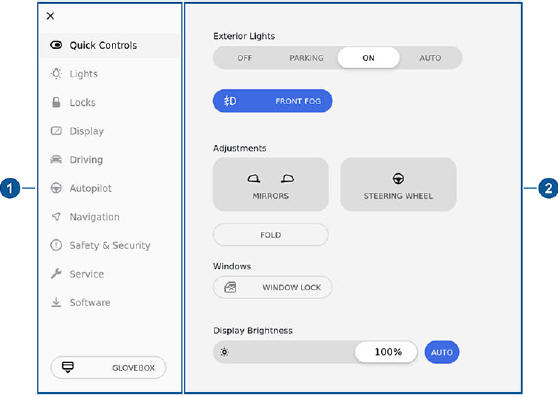 Control tabs and open glovebox. When you select an item from the list of tabs, its associated controls and options display in the main viewing area.
Main viewing area. The options available for your chosen controls category display here.

Note: Depending on vehicle configuration and market region, some settings may not be available for your vehicle.
Quick Controls provides easy access to the following commonly-used features:
Exterior lights
OFF - Exterior lights are off until you manually turn them back on.
The exterior lights are set to AUTO by default at the start of every drive.
PARKING- The exterior side marker lights, parking lights, tail lights, and license plates lights turn on.
ON- Exterior lights are on.
AUTO -Exterior lights automatically turn on if Model 3 detects low lighting conditions.
Note: For more information on exterior lights
Front Fog: Activates the front fog lights (only available in some regions).
Rear Fog: If equipped (only available in some regions).
Adjust the mirrors
Adjust the steering wheel (premium package)
Fold the mirrors
Window Lock: Lock the rear window switches
Display Brightness: Adjust the brightness of the display.
Lights
Exterior Lights: Described previously in Quick Controls
Front Fog: (Only available in some regions).
Rear Fog: (Only available in some regions).
Interior Lights
Dome Lights: Turn the overhead lights to OFF, ON, or AUTO. When set to AUTO, the dome lights automatically turn on when you unlock the vehicle, open a door upon exiting, or shift into Park.
Ambient Lights: If turned on, the interior lights turn on whenever the headlights are on (if equipped).
Auto High Beam: If on, the high beam headlights can automatically switch to low beam when there is light (for example, from an oncoming vehicle) detected in front of Model 3.
Headlights after Exit: If on, the headlights remain on when you stop driving and park Model 3 in low lighting conditions. They automatically turn off after one minute or when you lock Model 3.
Steering Wheel Lights: If on, the arrows associated with the scroll buttons on the steering wheel are backlit when the headlights are turned on.
Locks
Keys: You can see all the keys used for Model 3 and their associated driver profiles. You can add, delete, and change the driver profile associated with each key
Window Lock: Lock the rear window switches
Child-Protection Lock: If on, safety locks prevent the rear doors from being opened from inside the vehicle
Unlock on Park: If on, doors automatically unlock when you engage the Park gear
Lock Confirmation Sound: If on, an audible tone sounds when you lock or unlock Model 3.
Walk-Away Door Lock: If on, doors automatically lock when you walk away from the vehicle while carrying your authenticated phone with you
Display
Display Mode: Customize the DAY (light background) or NIGHT (dark background) setting of the touchscreen. When set to AUTO, the brightness changes automatically between day and night brightness based on ambient lighting conditions.
Brightness: Drag the slider to manually control the brightness level of the touchscreen.

When the AUTO brightness is on, the touchscreen is further adjusted based on both the surroundings and by learning your preferences (for example, it remembers the type of manual adjustments you make).

Screen Clean Mode: When enabled, your touchscreen darkens and is temporarily disabled to facilitate cleaning. Follow the onscreen instructions to exit Screen Clean Mode.
Customize how the units and languages are displayed:
Language: Choose the language that is displayed on the touchscreen.
Note: Model 3 must be in Park to change the language. When you change the language, you experience a brief delay as the vehicle shuts down and restarts the touchscreen.
Time Format: Choose if time is displayed in 12 or 24 hour format.
Energy Display: Display remaining energy and charging units as either a percentage of battery energy remaining, or as an estimate of the distance you can drive.
Distance: Choose if miles or kilometers are used when displaying range, speed, energy, trip meters, map searches and navigation routes.
Temperature: Choose if temperature is displayed in ВєC or ВєF.
Tire Pressure: Choose if tire pressures are displayed in BAR or PSI.
READ NEXT:
Acceleration: Adjust the amount of acceleration. Chill limits acceleration for a slightly smoother and gentler ride, whereas Standard or Sport (depending on vehicle configuration) provides t
Customize how the navigation system works by adjusting these settings: Volume Control: Increase or decrease the volume of spoken navigation instructions by touching - or +, respectively. Decr
To further personalize Model 3, you can name it. The name of your Model 3 appears in the mobile app. To name your vehicle, touch the Tesla "T" at the top center of the touchscreen, then touch Na
SEE MORE:
SPECIAL TOOLS Insulation Multimeter, Fluke 1507 (NA) (1076921-00-B) Insulation Multimeter, Fluke 1587 (EMEA) (1076921-00-A) Insulat
SPECIAL TOOLS Cap, Logic Conn, Inv, 3DU (1108272-00-B) Test Probes, Slim, Fluke TP38 (1130480-00-A) Warning: