Tesla Model 3: Body Repairs
If your Model 3 is in a collision, contact Tesla or a Tesla-approved Body Shop to ensure that it is repaired with genuine Tesla parts. Tesla has selected and approved body shops that meet strict requirements for training, equipment, quality, and customer satisfaction.
Some repair shops and insurance companies might suggest using non-original equipment or salvaged parts to save money. However, these parts do not meet Tesla's high standards for quality, fit and corrosion resistance. In addition, non-original equipment and salvaged parts (and any damage or failures they might cause) are not covered by the warranty.
Using RFID Transponders
When attaching an RFID transponder (used by many automated toll systems) inside Model 3, place the transponder on the right side of the rear view mirror as shown. This ensures best results and minimizes any obstruction to your driving view.
Note: You can also attach a weather-proof transponder to the front license plate.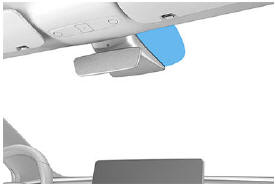 Installing Front License Plate Bracket
To accommodate jurisdictions that require a license plate on the front of your vehicle, Model 3 is equipped with a license plate bracket. This bracket conforms to the shape of your vehicle's front bumper and is adhered to it using strong adhesive.
Note: Tesla recommends performing this procedure on a clean, dry vehicle during a warm day. Cold and/or wet conditions may result in reduced performance of the adhesive.
To install the front license plate bracket:
Get isopropyl alcohol and test it on a nonvisible painted surface of your vehicle to confirm that it does not damage or remove the paint.
Clean the mounting site with isopropyl alcohol and allow to dry for at least one minute.
Fully remove the protective tape from the adhesive at the top of the bracket and partially remove the tape from the top of the adhesive on each side. Leave the bottom half of the tape on the sides in place and fold the unattached tape outward for easy removal after aligning the bracket to the bumper.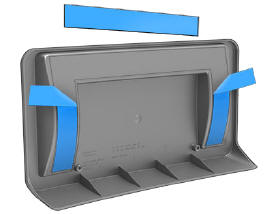 While tilting the top of the license plate bracket away from the bumper (to prevent adhering it to the wrong location), align the bottom center of the license plate bracket with the middle of the grille as shown.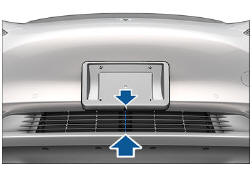 Note: Be as precise as possible when aligning the bracket because you will be unable to reposition it once adhered to the bumper.
While correctly aligned, move the top of the bracket against the bumper and apply pressure so that it is held in place by the adhesive.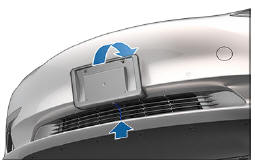 Remove the remaining tape from the sides of the bracket then press the entire bracket firmly against the bumper, ensuring the bracket is held in place by all adhesive areas.
Once the bracket is securely mounted, use the four supplied screws to attach your license plate to the bracket (tighten to 3 Nm/2.2 ft-lbs).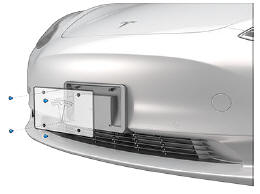 READ NEXT:
Identification Labels Vehicle Identification Number You can find the VIN at the following locations: Touch the Tesla "T" at the top center of the touchscreen. The popup window dis
It is important to understand how much weight your Model 3 can safely carry. This weight is called the vehicle capacity weight and includes the weight of all occupants, cargo and any additional eq
SEE MORE:
Exterior Dimensions Interior Dimensions Cargo Volume Weights Subsystems Transmission Steering Brakes Suspension Battery - 12V Battery - High Voltage
Warning: When airbags inflate, a fine powder is released. This powder can irritate the skin and should be thoroughly flushed from the eyes and from any cuts or abrasions. After inflation, the airbags deflate to provide a gradual cushioning effect for the occupants and to ensure the driver's f