Tesla Model 3: Instructions for Transporters
DO NOT TRANSPORT WITH WHEELS ON THE GROUND
The rear motor in Model 3 generates power when the wheels spin. Always transport Model 3 with all four tires off the ground. Ensure that the tires are unable to spin at any time during transport.
Warning: NEVER TRANSPORT YOUR VEHICLE WITH THE TIRES IN A POSITION WHERE THEY CAN SPIN.
DOING SO CAN LEAD TO SIGNIFICANT DAMAGE AND OVERHEATING. IN RARE CASES EXTREME OVERHEATING MAY CAUSE THE SURROUNDING COMPONENTS TO IGNITE.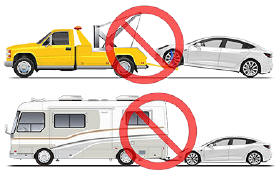 Do not transport Model 3 using any method that is not specified by Tesla. Adhere to the instructions provided in the following sections and observe all warnings and cautions provided. Damage caused by improper transporting of your vehicle is not covered by the warranty.
Note: Tesla is not liable or responsible for reimbursing services not dispatched through Tesla Roadside Assistance.
READ NEXT:
Note: The tires are allowed to rotate slowly (under 3 mph or 5 km/h) and for a very short distance (less than 30 feet or 10 meters) only when Transport Mode is enabled while the vehicle is being w
Transport Mode keeps the parking brake disengaged while winching Model 3 onto a flatbed truck. When active, Transport Mode displays a message indicating that the vehicle will remain free-rolling.
The vehicle's tires must be secured onto the truck using the eight-point tie-down method. Ensure any metal parts on the tie-down straps do not contact painted surfaces or the face of the
SEE MORE:
If a vehicle is to be scrapped and contains an undeployed airbag module or pretensioner, the module or pretensioner must be manually deployed. Always observe the following precautions: Warning: Only personnel who have undergone the appropriate training should undertake deployment of airbag and sea
Remove Open the LH front door. Remove the LH instrument panel end cap. See End Cap - Instrument Panel - LH (Remove and Replace). Remove the LH middle A-Pillar trim panel. See Trim - A-Pillar - Middle - LH (Remove and Replace). Release the topmost clip on the LH lower A-pillar