Tesla Model 3: Steering Wheel
Scroll Buttons
A scroll button is located on each side of the steering wheel. Use your thumb to press this button to the right or left. You can also press the button or roll it up or down.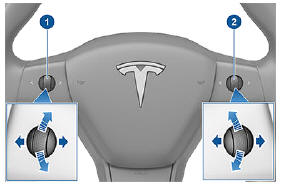 Use the left scroll button to:
Control the volume. Press the scroll button to mute/unmute the volume, roll the scroll button up to increase the volume, or down to decrease the volume.
Note: The scroll button adjusts the volume for media, navigation instructions or phone calls based on what is currently in use. As you adjust volume, the touchscreen displays the volume level and whether you are adjusting volume for media, navigation or phone calls.
Push the scroll button to the right to go to the next song, station, or Favorite (depending on what's playing). Push the scroll button to the left to return to the previous selection.
Adjust the position of the exterior mirrors
If equipped with the premium package, adjust the position of the steering wheel
Adjust the angle of the headlights
Use the right scroll button to:
Speak a voice command. Press the button to initiate a voice command
Adjust your set speed and the distance you want to maintain from a vehicle traveling ahead of you
Note: The arrows associated with the scroll buttons are backlit in low ambient lighting conditions. To turn this backlighting on or off, touch Controls > Lights > Steering Wheel Lights.
To restart the touchscreen, press and hold both scroll buttons until after the touchscreen turns black.
Adjusting Steering Wheel Position - Premium Package
To adjust the steering wheel, touch Controls > Quick Controls > Adjustments > Steering Wheel. Use the left scroll buttons on the steering wheel to move the steering wheel to the desired position:
To adjust the height/tilt angle of the steering wheel, roll the left scroll button up or down.
To move the steering wheel closer to you, or further away from you, press the left scroll button to the left or right.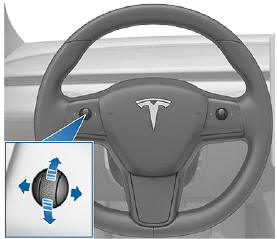 Warning: Do not make steering wheel adjustments while driving.
Adjusting Steering Effort
You can adjust the feel and sensitivity of the steering system to suit your personal preference:
On the touchscreen, touch Controls > Driving > Steering Mode.
Choose a steering option:
Comfort - Reduces the effort required to turn the wheel. In town, Model 3 feels easier to drive and park.
Standard - Tesla believes that this setting offers the best handling and response in all conditions.
Sport - Increases the effort required to turn the wheel. When driving at higher speeds, Model 3 feels more responsive.
The only way to really know which option you like best is to try them.
Horn
To sound the horn, press the center pad on the steering wheel.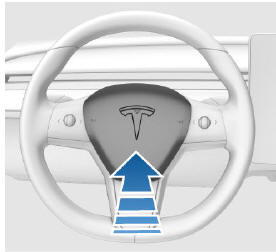 READ NEXT:
Adjusting Exterior Mirrors Adjust the exterior mirrors by touching Controls > Quick Controls > Mirrors. You can choose which mirror you would like to adjust by selecting Left or Right on the
Starting When you open a door, Model 3 powers on the touchscreen and you can operate all controls. To drive Model 3: PRESS THE BRAKE PEDAL - Model 3 powers on and is ready to drive. SELEC
Shifting Gears When Model 3 is in Park, you must press the brake to shift to another gear. Move the lever up or down to change gears. If you try to shift into a gear that the current drivin
SEE MORE:
Remove Remove the lumbar support assembly from the driver's seat back. See Lumbar Support - Backrest - Driver Seat (Remove and Replace). Remove and discard the clip that attaches the recliner tube to the frame. Use a rubber hammer to tap the recliner tube where the clip was located
Remove Fold down the LH 2nd row seat. Pull the 2nd row side bolster inward, and then move the bolster up to remove from the vehicle. Remove and discard the bolster plastic bracket from the vehicle. Note: The bracket might have come out with the bolster Install Install new bolster