Tesla Model 3: Correct Driving Position
The seat, head support, seat belt and airbags work together to maximize your safety. Using these correctly ensures greater protection.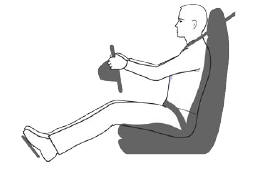 Position the seat so you can wear the seat belt correctly, while being as far away from the front airbag as possible:
Sit upright with both feet on the floor and the seat back reclined no more than 30 degrees.
Make sure you can easily reach the pedals and that your arms are slightly bent when holding the steering wheel. Your chest should be at least 10 inches (25 cm) from the center of the airbag cover.
Place the shoulder section of the seat belt mid-way between your neck and your shoulder. Fit the lap section of the belt tightly across your hips, not across your stomach.
Model 3 seats include integrated head supports that cannot be adjusted or removed.
Adjusting the Front Seats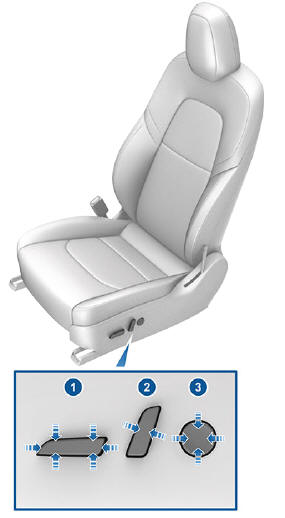 Move seat forward/backward and adjust the seat's height and tilt angle up/down.
Adjust backrest.
Adjust lumbar support.
Warning: Before adjusting a front seat, check that the area around the seat is free of obstacles (people and objects).
Warning: Do not adjust seats while driving. Doing so increases the risk of a collision.
Warning: Riding in a moving vehicle with the seat back reclined can result in serious injuries in a collision, as you could slide under the lap belt or be propelled into the seat belt. Ensure your seat back is reclined no more than 30 degrees when the vehicle is moving.
Folding Rear Seats
Model 3 has a split rear seat that can fold forward.
Note: Driving with the rear seats folded forward might result in increased perceivable noise and/or vibration coming from the rear of the vehicle (trunk, suspension, etc.).
Before folding, remove items from the seats and the rear footwell. To allow the rear seat backs to fold completely flat, you may need to move the front seats forward.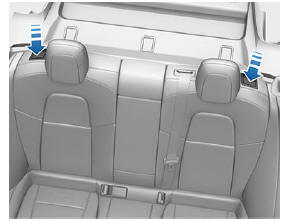 To fold a rear seat, pull the corresponding lever and fold the seat forward.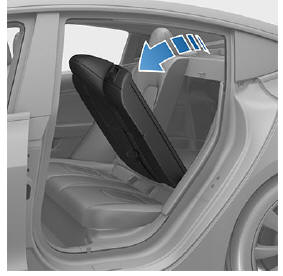 Raising Rear Seats
Before raising a rear seat, make sure that the seat belts are not trapped behind the backrest.
Pull the seat back upward until it locks into place.
To confirm that the seat back is locked in the upright position, try pulling it forward.
Warning: Always ensure the seat backs are locked in their upright position by pushing it forward or rearward. Failure to do so increases the risk of injury.
READ NEXT:
The front seats and outer rear seats include integrated head supports that are not adjustable. The rear center seat includes an adjustable head support that can be raised, lowered, or removed.
Using seat belts and child safety seats is the most effective way to protect occupants if a collision occurs. Therefore, wearing a seat belt is required by law in most jurisdictions. Both the dr
SEE MORE:
DRAFT Warning: This procedure was derived from pre-production computer models, and might not reflect the real-world situation. Warnings and cautions might be missing. Follow safety requirements and use extreme caution when working on or near high voltage systems and components. Remove Recover
Note: This procedure was formulated using a release candidate or production model. Follow safety requirements and use extreme caution when working on or near high-voltage systems and components. Remove Remove the 2nd row lower seat cushion. See Seat Cushion - Lower - 2nd Row (Remove and Rep