Tesla Model 3: Head Supports
The front seats and outer rear seats include integrated head supports that are not adjustable.
The rear center seat includes an adjustable head support that can be raised, lowered, or removed. The head support should always be raised and locked into position (so that the center is aligned with the center of the ears) when occupied by a passenger that is not in a child safety seat.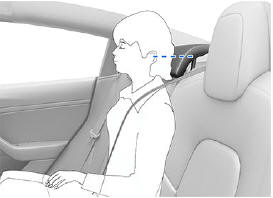 Warning: The head support in the rear center seat must be lowered when a seat belt retained child safety seat is installed in that seating position.
Warning: Ensure that all head supports are positioned correctly before sitting in, or operating, Model 3 to minimize the risk of severe injury or death in the event of a collision.
Raising/Lowering the Rear Center Head Support
To raise the head support, lift it until you hear it click into place. Push down on the head support to ensure that it is secure.
To lower the head support, press and hold the button on the outer base of the right post and press the head support down.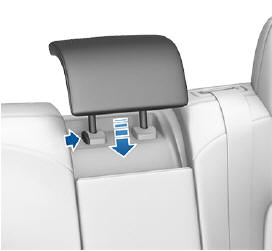 Removing/Installing a Head Support
To remove the head support:
Raise the head support as described above.
Press and hold the button on the outer base of the right post.
Insert a short, flat object (such as a small flat-head screwdriver) into the opening on the inside base of the left post and pull the head support upward.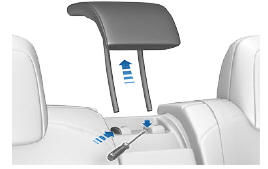 To re-install the head support:
With the front of the head support facing forward, insert both posts into the corresponding holes on the seat back.
Press down on the head support until it clicks into place.
Pull up on the head support to ensure that it is secure.
Warning: Ensure that the head support is correctly installed before seating an occupant. Failure to do so increases the risk of injury or death if a collision occurs.
Seat Heaters
The front and rear seats (if equipped) contain heating pads that operate at three levels from 3 (highest) to 1 (lowest). To operate the seat heaters
Warning: To avoid burns resulting from prolonged use, individuals who have peripheral neuropathy, or whose capacity to feel pain is limited because of diabetes, age, neurological injury, or some other condition, should exercise caution when using the climate control system and seat heaters.
Seat Covers
Warning: Do not use seat covers in Model 3. Doing so could restrict deployment of the seat-mounted side air bags if a collision occurs. Also, if the vehicle is equipped with an occupant detection system that is used to determine the status of the passenger front airbag, seat covers may interfere with this system.
READ NEXT:
Using seat belts and child safety seats is the most effective way to protect occupants if a collision occurs. Therefore, wearing a seat belt is required by law in most jurisdictions. Both the dr
The front seat belts are equipped with pre‑tensioners that work in conjunction with the airbags in a severe frontal collision. The pre‑tensioners automatically retract both the seat be
SEE MORE:
General Always replace locking devices with ones of the same design. Caution: Do not use impact tools on fasteners that are threaded into aluminum components. Locking Tabs and Washers Always inspect locking tabs and washers. Do not reuse, if damaged. Pipe and Hose Unions To prevent rotational damag
The touchscreen displays the status of Model 3 at all times. What you see depends on whether the vehicle is: Parked (shown below). Driving Charging When Model 3 is parked, the status area shows the gear, estimated range, and an overhead view of the car with buttons you can touch to o