Tesla Model 3: Cover - Penthouse (Remove and Replace)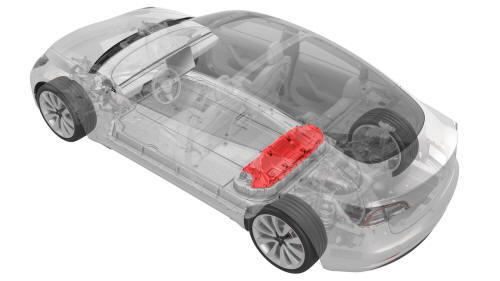 SPECIAL TOOLS
Asy, Service Cover, Penthouse, Model 3 (1127845-00-A)
Skt, 1/4in Dr, 5-Lobe Torx Plus External (1059330-00-B)
Wrench, Torque + Angle, 1/4" Dr (1076971-02-A)
Cap, Logic Conn, Inv, 3DU (1108272-00-B)
Warning: Remove all jewelry (watches, bracelets, rings, necklaces, earrings, ID tags, piercings, etc.) from your person, and all objects (keys, coins, pens, pencils, tools, fasteners, etc.) from your pockets before performing any procedure that exposes you to high voltage.
Warning: If corrective eyewear is necessary to safely perform any procedure, make sure that the eyewear is securely restrained to the head and cannot fall off.
Warning: Only technicians who have been trained in High Voltage Awareness are permitted to perform this procedure. Proper personal protective equipment (PPE) and insulating HV gloves with a minimum rating of class 0 (1000V) must be worn at all times a high voltage cable, busbar, or fitting is handled. Refer to Tech Note TN-15-92-003, "High Voltage Awareness Care Points" for additional safety information.
READ NEXT:
Remove Perform the vehicle electrical isolation procedure. See Vehicle Electrical Isolation Procedure. Remove the foam cover from the LH side of the penthouse. Remove the LH rear sill panel trim.
Install Caution: Replace all patchbolts. Replace all nyloc nuts. Use an IPA wipe to clean any residue from the high voltage controller mounting bolt holes and both the inside and outside of the p
SEE MORE:
Remove the rear license plate. Remove the trunk lid trim. See Trim - Lid - Trunk (Remove and Replace). Remove the LH and RH rear fog/reverse lights. See Light - Fog / Reverse - Rear - LH (Remove and Replace). Remove the trunk exterior release switch. See Switch - Exterior Release - Trunk
Motors Type, Rear Permanent Magnet Synchronous Motor, liquid-cooled Nominal Voltage 350 V Maximum net power and engine speed of rear motor Note: Tested in accordance with ECE R85. Long Range - 202 kW Maximum torque of rear motor Long Range - 416