Tesla Model 3: Guidelines for Seating Children
Your Model 3 seat belts are designed for adults and larger children. You must restrain infants and small children in the second row seats only, and you must use a suitable child safety seat appropriate for the child's age, weight, and size.
Warning: Never seat a child on a seat with an ACTIVE AIRBAG in front of it. DEATH or SERIOUS INJURY to the child can occur.
Warning: Do not associate the Easy Entry setting with the driver's profile when a child is seated in the second row. Doing so can cause the driver's seat to push against the child, especially when a child is seated in a forward-facing child seat or booster seat. Do not rely on Model 3 to recognize or accommodate a child seated in the second row while using this setting
Refer to the following label fitted to the sun visors.
Note: The image shown below is representative only and may not be identical to the label(s) in your vehicle.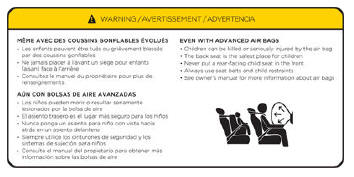 Choosing a Child Safety Seat
All children age 12 and under should ride in the second and third row seats. Always use a child safety seat suitable for a young child's age and weight. The following table is based on child safety seat recommendations determined by the National Highway Traffic Safety Administration (NHTSA) in the United States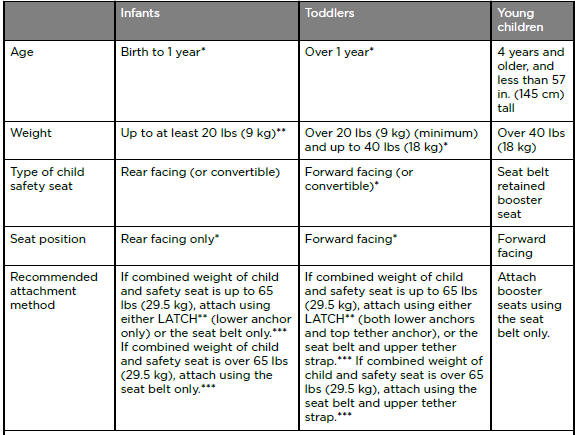 * Many child safety seats currently available allow children to ride rear-facing using the child safety seat's integrated 5-point harness for a longer period of time BASED UPON SPECIFIC HEIGHT AND WEIGHT LIMITS. Keep your child in a rear facing seat for as long as possible.
CHECK THE CHILD SAFETY SEAT MANUFACTURER'S INSTRUCTIONS AND CAREFULLY FOLLOW ALL INSTRUCTIONS ** ISOFIX is the international standard for attachment points for child safety seats in passenger cars. The system has other regional names including LATCH ("Lower Anchors and Tethers for Children") in the United States and LUAS ("Lower Universal Anchorage System") or Canfix in Canada. It has also been called the "Universal Child Safety Seat System" or UCSSS.
*** Subject to instructions provided by the child safety seat manufacturer.
Warning: Laws that govern how and where children should be carried when traveling in a vehicle are subject to change. It is the driver's responsibility to keep up to date on, and comply with, all current regulations in the region(s) where Model 3 is driven. To check the child passenger safety laws for states in the U.S., go to: http://www.ghsa.org/html/stateinfo/ laws/childsafety_laws.html.
Warning: Do not use LATCH/Isofix/i-Size anchors with child restraint system or booster seats that have an integral safety belt where the combined weight of the child plus the child restraint system exceeds 65 lbs (29.5 kg).
Seating Larger Children
If a child is too large to fit into a child safety seat, but too small to safely fit into the standard seat belts, use a booster seat appropriate for the child's age and size.
Carefully follow the manufacturer's instructions to secure the booster seat.
Installing Child Safety Seats
There are two general methods used to install child safety seats:
Seat belt retained - these seats are secured using the vehicle's seat belts.
LATCH retained - these seats attach to anchor bars built into the vehicle's rear seats.
Check the child safety seat manufacturer's instructions and the table provided in this document to determine which installation method to use. Some child safety seats can be installed using either method. Always follow the child safety seat manufacturer's instructions.
READ NEXT:
First, make sure that the child safety seat is appropriate for the weight, height, and age of the child. Avoid dressing the child in bulky clothing and do not place any objects between the child
If an upper tether strap is provided, attach its hook to the anchor point located on the shelf behind the rear seats. Note: The location of anchor points may not be readily visible but can be foun
Warning: Extreme hazard! Do not seat a child on the front passenger seat even if you are using a child safety seat. This seat has an airbag in front of it. Although this airbag is disabled when Mo
SEE MORE:
If the front toe is within specification and does not require adjustment, complete the alignment. See Complete the Alignment. Loosen the jam nut on the LH inner tie rod. Rotate the LH inner tie rod to adjust the front LH toe to 0.05º OUT +/- 0.15º (+/- 0.10º split). To add p
Remove Remove the rear underhood apron. See Underhood Apron - Rear (Remove and Replace). Remove the cabin intake duct. See Duct - Cabin Intake (Remove and Replace). Remove the hood latch cover. See Cover - Hood Latch (Remove and Replace). Remove the underhood storage carpet. See Carpet -