Tesla Model 3: Cover - Airbag - Knee - Driver (Remove and Replace)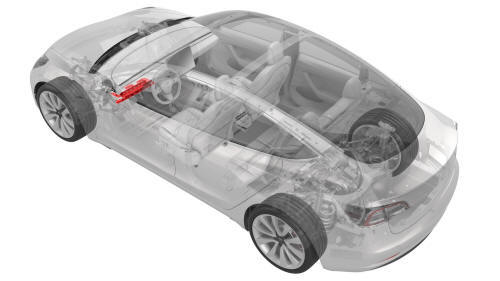 Note:
This procedure was formulated using a release candidate or production model. Follow safety requirements and use extreme caution when working on or near high-voltage systems and components.
Remove
Remove the driver knee airbag.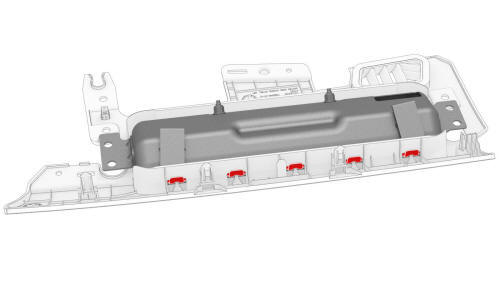 Use a flat head screwdriver to apply pressure along the rear edge of the airbag assembly, and while doing so, flex the knee airbag cover surround to release each of the 5 airbag tabs from the cover.
Install
Install the driver knee airbag into the cover.
Note: Push the tabs into the cover from the side facing the bulkhead, and then push down the remaining tabs into the cover until fully seated
Pivot the airbag into the cover until the 5 tabs at the rear of the airbag lock into place
Install the driver knee airbag assembly.
READ NEXT:
Remove Disconnect 12V power. See 12V Power (Disconnect and Connect). Remove the passenger footwell cover. See Cover - Footwell - Passenger (LHD) (Remove and Replace). Remove the T20 bolt
Install Install the passenger knee airbag into the airbag cover by installing the rear tabs first, and then press down against the airbag while pushing upwards on the edge of the cover.
SEE MORE:
How Speed Assist Works Model 3 displays a speed limit on the touchscreen and you can choose if and how you are warned when you exceed the speed limit. You can touch this speed limit sign to automatically change the set speed to the detected speed limit (including any offsets that you have set
Check windshield washer fluid level and top up if necessary Check that the air conditioning system is operating correctly Note: In addition to cooling the interior, the air conditioning compressor also cools the Battery. Therefore, in hot weather, the air conditioning compressor can t