Tesla Model 3: Overview
The touchscreen displays the status of Model 3 at all times. What you see depends on whether the vehicle is:
Parked (shown below).
Driving
Charging
When Model 3 is parked, the status area shows the gear, estimated range, and an overhead view of the car with buttons you can touch to open the trunks and charge port door. When you press the brake, Model 3 powers up and indicator lights flash briefly along the top. Unless an indicator light applies to the current situation (for example, a seat belt is not fastened), it should turn off. If an indicator light fails to turn on or off, contact Tesla.
Note: The following image is provided for demonstration purposes only. Depending on vehicle options, software version, and market region, the information displayed may be slightly different.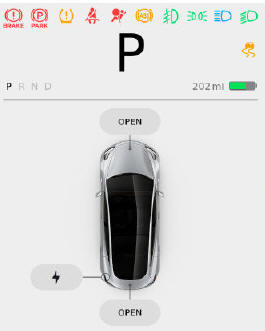 Indicator Lights
The following indicator lights illuminate to advise you or alert you of a specific status or condition.

A brake system fault is detected
or the brake fluid level is low.

The parking brake is manually
applied.

A parking brake fault is
detected.

Tire pressure warning. The
pressure of a tire is out of range. If a fault with the Tire Pressure Monitoring System (TPMS) is detected, the indicator flashes. View tire pressures in the "Cards" area, located below the touchscreen's car status area, as described in Touchscreen Overview on page 4. For a TPMS fault, contact Tesla.

A seat belt for an occupied seat
is not fastened.

Airbag safety. If this indicator
does not flash on briefly when Model 3 prepares to drive, or if it remains on, contact Tesla immediately.

An ABS (Anti-lock Braking System)
fault is detected.

Front fog lights, if equipped.

Parking lights (side marker
lights, tail lights, and license plate lights) are on.

Low beam headlights are on.

High beam headlights are on and
Auto High Beam is disabled or currently unavailable.
Auto High Beam is enabled and
high beams are on. Model 3 is ready to turn off the high beams if light is detected.

Auto High Beam is enabled but
high beams are not on because light is detected in front of Model 3. When light is no longer detected, high beams automatically turn back on.

This indicator flashes amber when
the electronic stability control systems are actively minimizing wheel spin by controlling brake pressure and motor power.

Electronic stability control
systems are no longer minimizing wheel spin.

Vehicle Hold is actively applying
the brakes.

A door or trunk is open.

The Pedestrian Warning System (if
equipped) has been paused.

Appears when some of the stored
energy in the Battery may not be available due to cold weather conditions. If Model 3 is plugged in, you can heat your Battery by turning on climate control with the mobile app. The snowflake icon disappears when the Battery is sufficiently warm.

Vehicle power is currently being
limited because the energy remaining in the Battery is low or the vehicle's systems are being heated or cooled (indicator light is amber).

Flashes green when the left turn
signal is operating. Both turn signal indicators flash green when the hazard warning flashers are operating.

Flashes green when the right turn
signal is operating. Both turn signal indicators flash green when the hazard warning flashers are operating.
READ NEXT:
When Model 3 is driving (or ready to drive), the touchscreen shows your current driving status and a real-time visualization of the road as detected by the Autopilot components. The visualization
Wipers To perform a single wipe with the windshield wipers, press and immediately release the button on the end of the left-hand steering column lever. To adjust the continuous wiper settings,
SEE MORE:
SPECIAL TOOLS Adapter, Lift Pad, Model 3 (1453419-00-A) Key, Seat Belt Release, Model 3 (1133787-00-A) ASY, Battery Table, Manual Lift (1020566-00-F) Top Plate, Battery Table, Manual Lift (1020566-99-A) Hoist, H-Frame EMEA (1129166-00-A) Gantry, Adjustable, Aluminum (1073363-00-A) Kit, Alignment Rod
Remove Remove the 2nd row lower seat cushion. See Seat Cushion - Lower - 2nd Row (Remove and Replace). Remove the RH 2nd row seat side bolster. See Bolster - Side - Seat - 2nd Row - LH (Remove and Replace). Release the clips that attach the bolster bracket, and the remove the bracket fr