Tesla Model 3: Touchscreen Overview
The features and information you need to drive Model 3 are displayed on the touchscreen. When driving, the touchscreen displays driving-related information such as driving speed, vehicle range, warnings, etc. The touchscreen is used to control many features that, in traditional cars, are controlled using physical buttons (for example, adjusting mirrors). You can also use the touchscreen to customize Model 3 to suit your preferences.
Warning: Always pay attention to road and traffic conditions when driving. To minimize driver distraction and ensure the safety of vehicle occupants as well as other road users, avoid using the touchscreen to adjust settings while the vehicle is in motion.
Note: The image below is provided for demonstration purposes only. Depending on vehicle options, software version and market region, your touchscreen may appear slightly different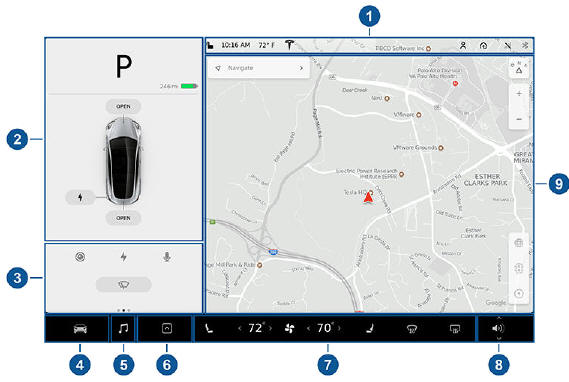 This area on the top of the touchscreen displays useful information and provides shortcuts to various features. In addition to the time of day and the current outside temperature, this area displays the following icons:

Touch to lock/unlock all doors and
trunks.

Access information about your
Model 3.
Add, configure, or quickly switch
driver profiles (including Valet Mode and Easy Entry).

Displays when a warning
notification is in effect. Touch to display information about the warning.

Displays when a software update is
available

Displays when dashcam is ready to
be used (you have inserted a supported flash drive into a front USB port). Touch to operate dashcam

Touch to enable or disable Sentry
Mode to actively monitor the vehicle's surroundings

Control or program HomeLink
devices (if equipped)

Connected to a Wi-Fi network.

Connected to cellular network.
Touch to connect to Wi-Fi

Connect to a Bluetooth device
Displays the status of the front
passenger airbag (applicable only in regions where the airbag can be disabled)
Car Status. This area dynamically displays the current status of Model 3 as you drive, park, open doors, turn lights on, etc. Monitor this area when driving as it displays important information such as driving speed and warning messages. When the car is in Park, you can open the trunks or charge port door.
Cards. This area automatically updates to display information such as incoming calls, seat belt reminders, current state of the wipers, etc. It also provides easy access to the rear view camera, charging status, voice commands, wiper controls, and seat belt reminders. Swipe to the right or left to access:
Trips. You can display distance driven, energy usage and energy efficiency starting at any time, or since Model 3 was last charged. You can also display this information for up to two trips. Touch ... in the top right corner of a trip to rename or reset a trip.
Tire Pressures. Display tire pressures or view cautions or warnings related to pressures that are not within acceptable limits
Controls. Touch to control features and customize Model 3 to suit your preferences
Media Player
Touch the app launcher then choose from the following apps:

Call.

Calendar.

Camera. Display the area behind
Model 3. This area also displays automatically whenever you shift into Reverse.

Energy.

Charging.

Web. Access the Internet using
the web browser (if equipped with premium connectivity).

Entertainment. Browse the full
library of games and access video streaming services, all from your vehicle's touchscreen. To launch, Model 3 must be in Park.
Note: Due to vehicle configuration or market region, Entertainment, Arcade, and/or Theater may not be available on your vehicle.

Toybox. Shortcut to Eater Eggs.
Note: Swiping up on the app launcher displays the most recently used app (provided an app is not currently being displayed). Note: Depending on the market region and vehicle options, your vehicle may not be equipped with some features.
Climate Controls
Volume Control
The map displays on the touchscreen at all times
Note: When you touch Controls, choose an app, or expand Media Player, the window displays on top of the map. To close the Controls window, touch Controls again or touch the X in the top corner of the window. To close an app, touch the X in the top corner of the window. To close Media Player, drag it all the way down to the bottom of the touchscreen or touch the icon again.
The Tesla "T"
Touch the Tesla "T" at the top center of the touchscreen to display:
Vehicle name (see Naming Your Vehicle on page 123).*
Vehicle configuration.*
Odometer.*
Vehicle Identification Number (VIN).*
Version of software currently installed on your Model 3.
Access to release notes associated with the currently-installed software version.*
Access to this owner's manual.
One-touch access to call Tesla Customer Support and Roadside Assistance (if available in your market region).
One-touch access to all discovered Easter Eggs
*You can also display this information by touching Controls > Software.
READ NEXT:
Model 3 supports three types of keys: Authenticated phone - You can set up your personal smartphone to communicate with Model 3 using Bluetooth. Supports automatic locking and unlocking as
SEE MORE:
Install the clips that attach the front end module electrical harness to the front end carrier. Install the hood latch. Install the secondary hood latch actuator. With an assistant, position the front end carrier onto the vehicle for installation. Note: Hand-tighten the upper bolts of th
Only use Tesla recommended parts. Warning: Non-Tesla recommended parts might adversely affect safety features and corrosion prevention treatments. Warning: Always use the correct torque values as given in this Manual. Warning: Locking devices, where specified, must be fitted. If the efficiency