Tesla Model 3: Cap - Penthouse HV (Remove and Replace)
Remove
Remove the 2nd row lower seat cushion. See Seat Cushion - Lower - 2nd Row (Remove and Replace).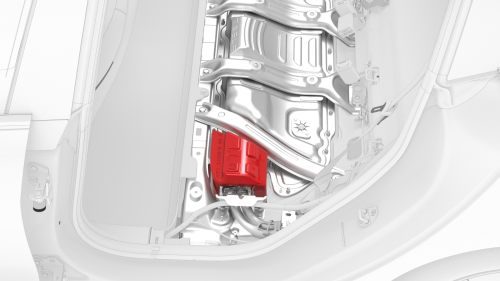 Lift the HV cap straight up from over the DC input connector on the LH side of the penthouse, and then remove the HV cap from the vehicle.
Install
Installation procedure is the reverse of removal.
READ NEXT:
Remove Remove the 2nd row armrest. See Armrest - 2nd Row (Remove and Replace). Release the clips and tabs that attach the 2nd row armrest closeout to the 2nd row seat, and then remove th
Remove Remove the 2nd row lower seat cushion. See Seat Cushion - Lower - 2nd Row (Remove and Replace). Remove the LH 2nd row seat side bolster. See Bolster - Side - Seat - 2nd Row - LH (Remove
Remove Remove the 2nd row lower seat cushion. See Seat Cushion - Lower - 2nd Row (Remove and Replace). Remove the rear underhood apron. See Underhood Apron - Rear (Remove and Replace). Discon
SEE MORE:
Keep tires inflated to the pressures shown on the Tire and Loading Information label, even if it differs from the pressure printed on the tire itself. The Tire and Loading Information label is located on the center door pillar and is visible when the front door is open. Note: If your Model 3 i
Summer Tires Your vehicle may be originally equipped with high performance summer tires or all season tires. Tesla recommends using winter tires if driving in cold temperatures or on roads where snow or ice may be present. Contact Tesla for winter tire recommendations. Warning: In cold temper