Tesla Model 3: Glovebox
To open the glovebox, touch Controls > Glovebox on the bottom corner of the touchscreen. The glovebox automatically opens and its light turns on.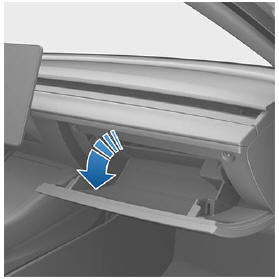 To close the glovebox, push it upward until it clicks into its closed position.
Note: If you leave the glovebox open, its light eventually turns off.
Note: The glovebox locks whenever closed and you lock Model 3 using the mobile app, key card, you leave Model 3 carrying your authenticated phone (if Walk-Away Door Lock is turned on), or if Valet mode is activ . It does not lock when Model 3 is locked by touching the lock icon on the touchscreen.
Warning: When driving, keep the glovebox closed to prevent injury to a passenger if a collision or sudden stop occurs.
Center Console - Premium Package
In addition to housing an RFID transmitter that reads key fobs and key cards (see Key Card ), the center console includes cup holders, two storage compartments, and a phone dock for two phones (or other devices).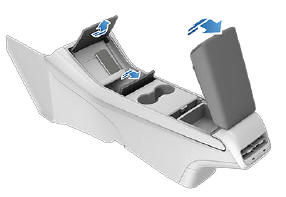 To open the main storage compartment, pull its cover upward.
Open the other storage compartment or access the phone dock by pressing firmly near the cover's opening edge. To close a storage compartment, push its cover down gently.
USB Ports - Premium Package
Model 3 has two USB 2.0 ports located in the front compartment of the center console.
These ports can be used to connect and charge your phone (see Installing Phone Charging Cable). save videos when using features such as Sentry Mode or Dashcam, or play audio files stored on a phone or USB device (see Playing Media from Devices
Open the center console door below the touchscreen and lift the phone dock upward to access the front USB ports.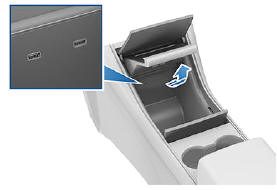 Two additional USB ports are located in the rear of the center console. Passengers in the rear seats can use these ports to charge their USB-connected devices. Devices connected to the rear USB ports do not communicate with the vehicle.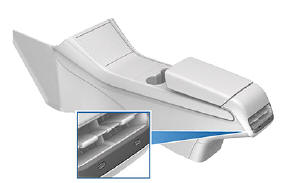 Note: Power is available whenever the vehicle is considered "awake". The vehicle may be awake for many reasons. For example, when using features such as Summon, or when features such as Cabin Overheat Protection, Keep Climate On, Dog Mode, Sentry Mode, etc. are enabled. The vehicle is also awake whenever the 12V battery is being charged or is in use, during HV charging, when the vehicle is communicating with the mobile app, etc.
Leaving an accessory plugged in does not deplete the 12V battery.
Note: Always use USB 2.0 compliant cables when connecting devices to the USB ports.
Using non-compliant cables can result in slower charging and, if plugged into either of the front two ports, can result in potential connection problems or degraded performance when trying to access media files on the device.
Note: Do not connect multiple devices using a USB hub. This can prevent connected devices from charging or from being recognized by Media Player, Sentry Mode, Dashcam, etc.
READ NEXT:
To make it easy to connect your phone while keeping the console free of clutter, you can install a phone charging cable in Model 3. Note: The phone dock supports two phones side-by-side. To i
Your Model 3 has a rear console integrated in the center of the second row seat back. Pull the console down to access the rear cup holders, or use it as an armrest. Coat Hangers Your Model 3
SEE MORE:
Remove Release the LH lower rocker panel bolt covers. Remove the bolts that attach the LH lower rocker panel cover to the body. Torque 5 Nm Front Rear Release the clips that attach the LH lower rocker panel cover to the front and rear wheel arch liners. Rele
Install LH RH With assistance, install the trunk to the trunk hinges, and then install the bolts that attach the trunk lid to the trunk hinges. Caution: Install the bolts closest to the body first, and then install the bolts furthest from the body. Note: Hand tighten, but do not torque t