Tesla Model 3: Rear Lettering (Retrofit)
SPECIAL TOOLS
Fixture, Badge, Dual Motor/Perf, M3 (1475764-00-A)
Seam Roller, Silicone, 5" (1049517-00-A)
Procedure
Clean the trunk area where the "Dual Motor" badge is to be installed with an isopropyl alcohol (IPA) wipe.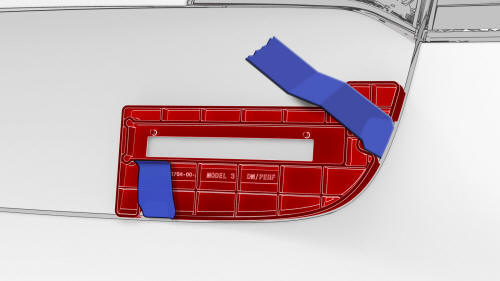 Put the badge fixture tool in position on the trunk and secure it with masking tape.
Note: Make sure the badge and adhesion surface are between 60-120 degrees Fahrenheit (15.556-43.333 Celsius). Use a heat gun in cold weather conditions to bring installation surfaces to optimum temperature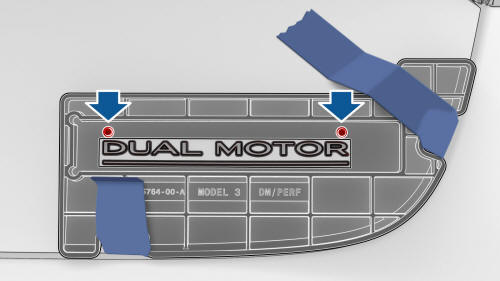 Remove the badge liner on the adhesive side, and then set the badge in the badge fixture using the datum holes.
Adhere the badge to the trunk by pressing through the badge fixture window
Remove the clear front liner from the badge. Do not discard the liner at this time.
Remove the badge fixture and masking tape from the trunk.
Reapply the clear front liner to the badge to protect the surface.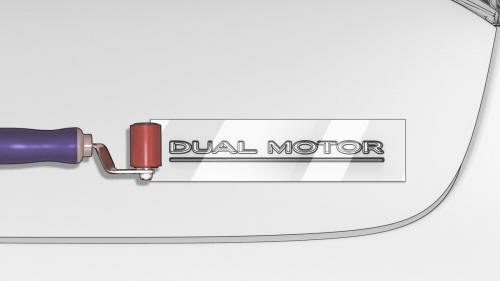 Use the silicone seam roller to fully adhere the badge.
Remove the clear front liner from the badge.
READ NEXT:
SPECIAL TOOLS Kit, Badge Removal (1453028-00-A) Fixture, Front Badge, Model 3 (1134702-00-A) Remove Prepare the badge removal tool with approximately 60 centimeters of monofilament line. With
SPECIAL TOOLS Kit, Badge Removal (1453028-00-A) Fixture, Rear Badge, Model 3 (1134703-00-A) Remove Prepare the badge removal tool with approximately 60 centimeters of monofilament line. Raise
SEE MORE:
Install Note: Use soft materials to protect the windshield and to prevent scratching. Attach suction cups to the LH and RH sides of the windshield on the outside side of the windshield. With an assistant, position the windshield on the vehicle for a dry fit. Note any locations where t
Install Inspect the condition of the LH rear door and the LH rear door trim panel. Replace any broken clips and repair any damage. Bring the trim panel to the door, and rest it on the door edge. Fasten the clip that attaches the electrical wiring harness to the trim panel. Connect