Tesla Model 3: Window Motor / Regulator Assembly - Rear - LH (Remove and Replace)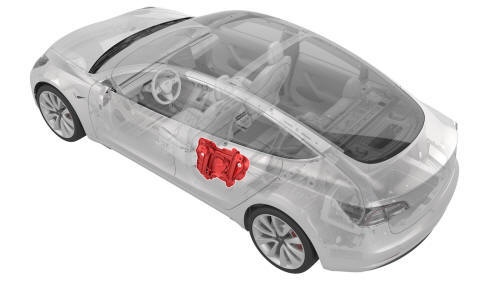 SPECIAL TOOLS
Rivnut Install Kit, for NA (1054712-00-A )
Rivnut Install Kit, for EMEA (1054712-01-A )
Service rivnut (1004296-00-A)
Service bolt (1015888-00-C)
Warning: The side impact airbag deployment depends on the front door sensor's ability to detect a side impact from air pressure. Make sure that there are no uncovered holes in the front door shells. Additionally, always reinstall plugs or tape when servicing or inspecting the front doors and their components.
Remove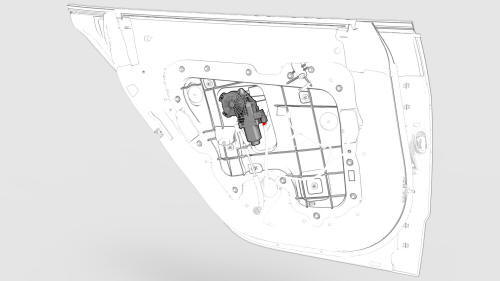 Remove the rear LH door glass. See Glass - Door - LH - Rear (Remove and Replace).
Disconnect the electrical connector to the motor.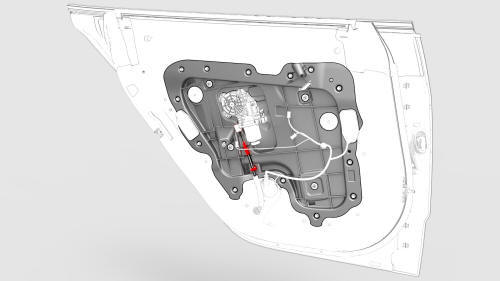 Release the clips that attach the manual latch release cable to the window regulator panel.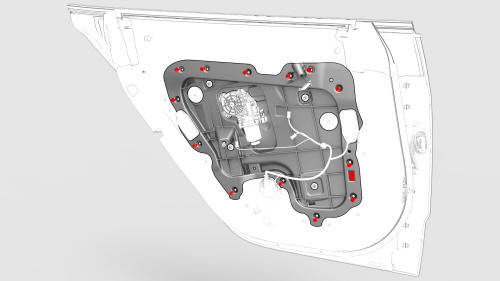 Remove the screws (x13) and release the metal clip that attach the window regulator panel to the door, and then remove the regulator from the door. Torque 4 Nm
Caution:
Never loosen or remove the nuts that attach the regulator arms to the closeout panel.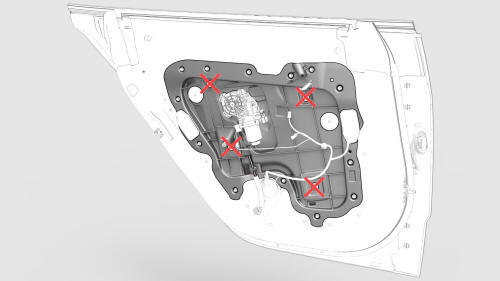 Install
Installation procedure is the reverse of removal, except for the following:
Caution:
Repeated installations might strip the mounting holes for the window regulator panel. On installation, hand-start the screws so as to reduce the risk of stripping the threads.
Install rivnuts where any of the mounting holes for the window regulator panel are stripped. Use a 7.5mm drill to prepare the hole for rivnut installation.
READ NEXT:
Connect a laptop with Toolbox to the vehicle. In Toolbox, select the connection status icon at the top right corner, and then select Connect Locally. Get into the driver seat, and then close the
Connect a laptop with Toolbox to the vehicle. In Toolbox, select the connection status icon at the top right corner, and then select Connect Locally. Get into the driver seat, and then close the
SEE MORE:
Remove Remove the LH rear door trim panel. See Panel - Door Trim - Rear - LH (Remove and Install). Release the clips that attach the rear window switch to the door trim panel. Tip: Release the front clips first, and then release the rear clips while pushing the rear window swi
Install Use an IPA wipe to clean the area around the openings where the flood ports were removed. Install a 2nd generation flood port into the opening at the LH underside of the HV battery penthouse. Note: Press up firmly to fully seat the flood port and fasten the clips (x8) internally