Tesla Model 3: How It Works
Your Model 3 includes the following Autopilot components that actively monitor the surrounding roadway: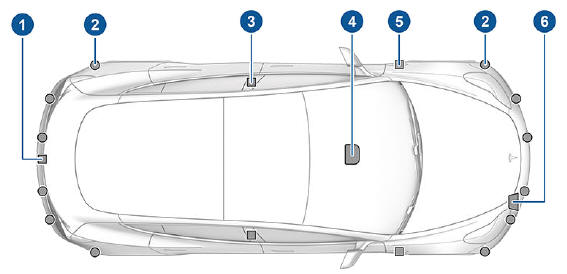 A camera is mounted above the rear license plate.
Ultrasonic sensors are located in the front and rear bumpers.
A camera is mounted in each door pillar.
Three cameras are mounted to the windshield above the rear view mirror.
A camera is mounted to each front fender.
Radar is mounted behind the front bumper
Model 3 is also equipped with high precision electronically-assisted braking and steering systems.
Features
These safety features are available on all Model 3 vehicles:
Lane Assist
Collision Avoidance Assist
Speed Assist
Auto High Beam
These Autopilot convenience features are designed to reduce driver workload:
Traffic-Aware Cruise Control
Autosteer
Auto Lane Change
Autopark
Summon
Smart Summon
Navigate on Autopilot
Stop Light and Stop Sign Warning
Note: Depending on market region, options purchased, and software version, your vehicle may not be equipped with all Autopilot features.
You can enable/disable some of these features and in some cases, control how they work. To access settings, touch Controls > Autopilot.
READ NEXT:
Model 3 must maneuver with a great deal of precision when Autopilot features are being used. Therefore, before some features (for example, Traffic-Aware Cruise Control or Autosteer) can be used fo
Note: Traffic-Aware Cruise Control is a BETA feature. Note: If your vehicle is not equipped with an optional Autopilot package, refer to the owner's manual on your vehicle's touchscreen f
To use Traffic-Aware Cruise Control, you must be driving at least 18 mph (30 km/h), unless a vehicle is detected ahead of you. If a vehicle is detected ahead of you, you can use Traffic- Aware Cru
SEE MORE:
Overview The Calendar app allows you to view scheduled events from your phone's (iPhone or Android) calendar for the current and next day. The Calendar is conveniently integrated with navigation and the Phone app so you can navigate to, or dial into, your next meeting. The Calendar app requ
Airbags inflate when sensors detect an impact that exceeds deployment thresholds. These thresholds are designed to predict the severity of a crash in time for the airbags to help protect the vehicle's occupants. Airbags inflate instantly with considerable force accompanied by a loud noise.